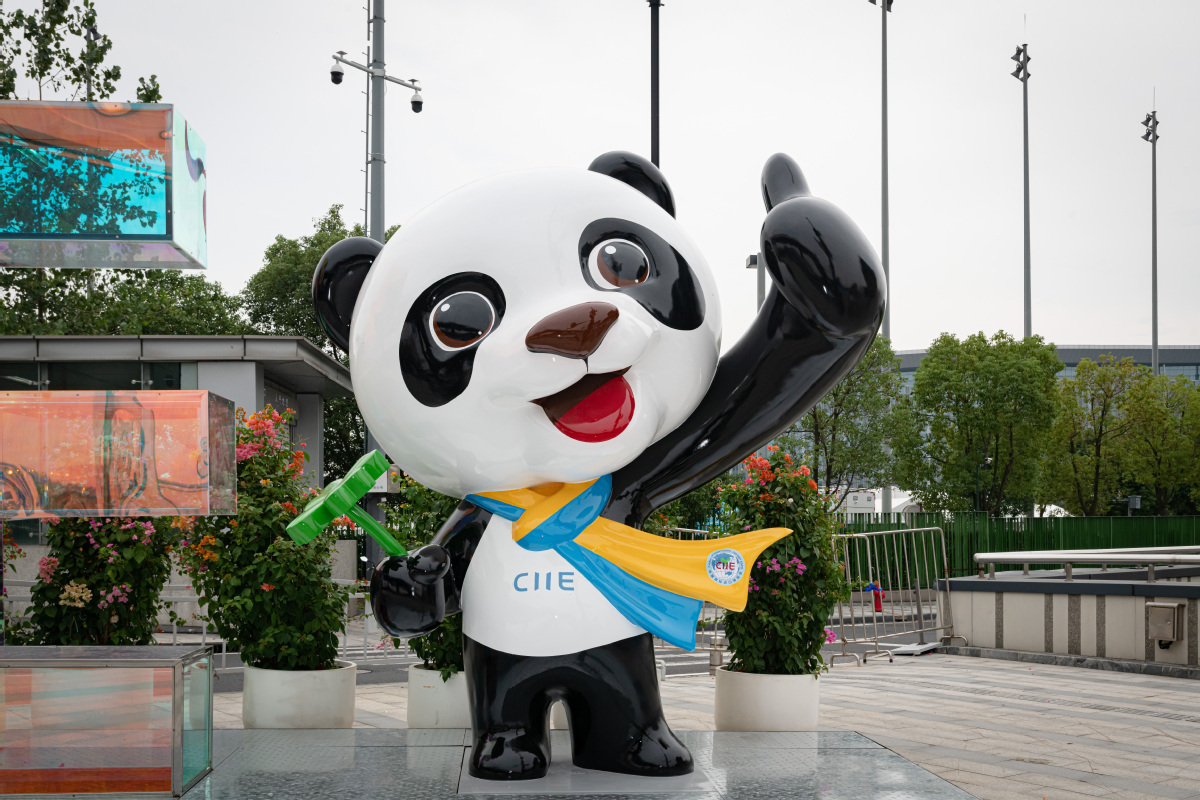 A statue of Jinbao, the panda mascot of the China International Import Expo, is seen in Shanghai. [Photo/IC]
About 150,000 square meters of exhibition space has already been booked for next year's China International Import Expo, an indication of industry leaders' confidence in the Chinese market, organizers said in Shanghai on Wednesday as this year's event closed.
Sun Chenghai, deputy director of the CIIE Bureau, said at a news conference that companies have booked booths for next year's expo at a faster rate than for 2021. The exhibition area this year was a record 366,000 sq m, up 6,000 sq m from 2020.
Affected by COVID-19, the value of deals reached at this year's CIIE was $70.72 billion, down 2.6 percent year-on-year, Sun said.
However, 422 new products, technologies and service items were released at the event, a record high, he said. Medical equipment and healthcare products accounted for the majority of new products.
Leon Wang, executive vice-president of biopharmaceutical company AstraZeneca, said China's huge innovative prowess had been demonstrated at the expo. Not only are advanced technologies and products brought into China via the exhibition, but innovation is nurtured in the country, he said.
Carbon neutrality and green development was a major theme of the expo this year, and service provider EY launched a carbon management tool kit at the exhibition. The kit can help companies keep up to date with carbon prices and trends in reaching carbon neutrality and help tailor paths to green development.
"There are huge opportunities in the carbon market. If companies can successfully commercialize their core carbon neutrality technologies and make them the key to their competitiveness, the value of carbon trading will be maximized and companies can also consolidate their positions in the market," said Lu Xin, a partner in EY's energy business in China.
Consumer goods covered 90,000 sq m of the exhibition space this year, the largest product area. The world's biggest beauty brands, such as Beiersdorf and Coty, as well as fashion giants LVMH, Richemont and Kering, were all present at the expo.
A total of 281 Fortune 500 companies and industry leaders attended this year's exhibition, with 40 joining the CIIE for the first time and another 120 taking part in the exhibition for the fourth consecutive year.
"The CIIE has further facilitated China's industrial transformation and upgrading," said Jiang Ying, vice-chairwoman of Deloitte in China, a market consultancy.
The CIIE has become a key platform where foreign companies can gain a deeper understanding of the Chinese market and seek investment opportunities, she said.
---
Post time: Nov-17-2021