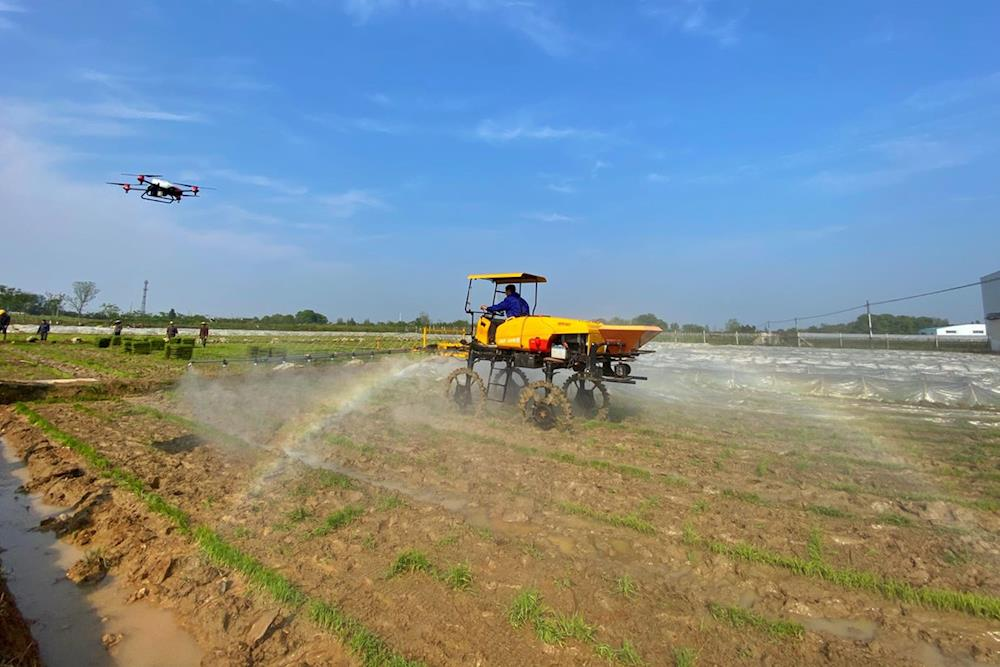 Wu Zhiquan, a major grain grower in Chongren County, Jiangxi Province, plans to plant more than 400 acres of rice this year, and is now busy using the technology of mechanized seedling transplanting in large bowls and blanket seedlings for factory-based seedling raising. The low level of rice planting mechanization is the shortcoming of the mechanized development of rice production in our country. In order to promote the mechanized planting of early rice, the local government provides farmers with a subsidy of 80 yuan per acre of rice machine-planting. Now our rice production is fully mechanized, which greatly improves the efficiency of the operation and reduces the cost of planting, and makes farming easier. Said Hu Zhiquan.
At present, wheat is in the rising period, which is a critical period for wheat spring management. Baixiang County, Hebei Province Jinguyuan High-quality Wheat Professional Cooperative dispatched 20 self-propelled sprayers, 16 mobile sprinklers, and 10 plant protection drones. It provides spraying wheat nutrition packages, herbicides and irrigation services for more than 300 large grain farmers and small farmers in the surrounding area, with a service area of more than 40,000 acres. The cooperative provides a full range of mechanized services for the majority of small and medium-sized farmers in the cultivation, planting, management, harvesting, warehousing and logistics of strong gluten wheat.
At present, mechanized operation has become the main force of spring agricultural production. The Ministry of Agriculture and Rural Affairs estimates that this spring, more than 22 million sets of various types of tractors, ploughing machines, seeders, rice planting and transplanting machines and other agricultural machinery and equipment will be put into agricultural production. It is estimated that there are 195,000 agricultural machinery service organizations, more than 10 million certified agricultural machinery operators and more than 900,000 agricultural machinery maintenance personnel active in the production line.
The Beidou assisted driving tractors can operate 24 hours a day, automatically operate agricultural tools, and automatically turn around to meet the line, which improves the production efficiency and reduces the labor burden of the operator. In Xinjiang, self-driving tractors are used to sow cotton, which can operate more than 600 acres per day, improving land use efficiency by 10%. The planting of cotton in accordance with the whole-process mechanization model has also greatly promoted the popularization and application of cotton pickers. Last year, the cotton picker rate in Xinjiang reached 80%.
---
Post time: Apr-20-2022